The Spells of Caer Colur is the seventeenth chapter of The Castle of Llyr. Here in a confrontation with all the major protagonists the villainess reveals her plans, with the theme of unfortunate magical enchantments coming to a head, as does the minor theme of the bumbling accident.
This page contains spoilers. If you do not wish to be spoiled, do not read further.
Plot
Achren
revealed to the
Companions
that
Princess Eilonwy
was under her
spell
. The enchantress demonstrated Eilonwy's power by torturing
Gurgi
, while
Gwydion
faced Achren defiantly as ever.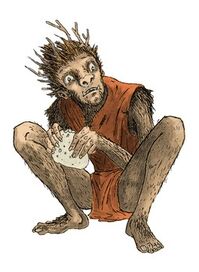 Rhun then rashly revealed that they knew she could not complete her plans, for the companions had hidden the
enchanted
items which Achren needed to fulfill her plan: the
Book of Llyr
and the
Golden Pelydryn
.
Ad blocker interference detected!
Wikia is a free-to-use site that makes money from advertising. We have a modified experience for viewers using ad blockers

Wikia is not accessible if you've made further modifications. Remove the custom ad blocker rule(s) and the page will load as expected.