The Broken Spell is the tenth chapter of Taran Wanderer.
This page contains spoilers. If you do not wish to be spoiled, do not read further.
Plot
Breaking
Morda
's finger-bone -- as only the wizard's own prodigious strength could do, as he struggled to wrest it from
Taran
's grasp -- ended Morda's life and broke his evil enchantments.
Doli
, returned to his
dwarf
form, expressed deep gratitude when Taran returned the
enchanted jewel
to his hands. Doli spoke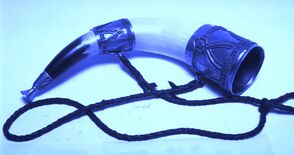 of the
Free Commots
' inhabitants, yet knew nothing of the
Mirror of Llunet
. He did, however, reveal the existence of the
Lake of Llunet
, then determined that
Taran's Battle Horn
was of
Fair Folk
make, and that it had one "summons" left in it. Taran, along with
Gurgi
and
Fflewddur Fflam
, and continued his journey deeper into the
Hill Cantrevs
.
Ad blocker interference detected!
Wikia is a free-to-use site that makes money from advertising. We have a modified experience for viewers using ad blockers

Wikia is not accessible if you've made further modifications. Remove the custom ad blocker rule(s) and the page will load as expected.