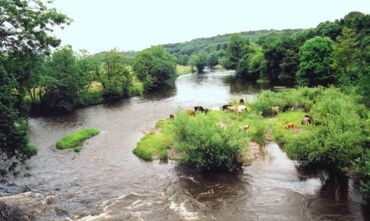 The River Tevvyn
was a river in the west of
Prydain
, one of the waterways that flowed into the
Great Avren
. Its source seems to have been in the
Hills of Bran-Galedd
in the northwest; it then ran southward through the
Forest of Idris
to empty into the wide, bay-like mouth of the
Great Avren
. The Tevyn's waters were brown and turbulent.
This page contains spoilers. If you do not wish to be spoiled, do not read further.
The Tevvyn was the river which Taran and the Companions had to cross while bearing the burden of the Black Crochan. It was here, too, that Ellidyr tried to drown Taran and kill the other companions -- and almost succeeded.
Ad blocker interference detected!
Wikia is a free-to-use site that makes money from advertising. We have a modified experience for viewers using ad blockers

Wikia is not accessible if you've made further modifications. Remove the custom ad blocker rule(s) and the page will load as expected.