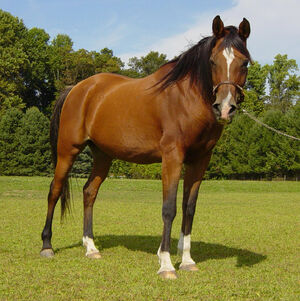 Lluagor
was a horse, a bay mare who was originally
Adaon
's steed.
This page contains spoilers. If you do not wish to be spoiled, do not read further.
After Adaon died, Lluagor was given to Taran along with the Son of Taliesin's other possessions. Taran first bade Gurgi and Fflewddur to ride Lluagor, but the mare soon became Eilonwy's favorite, and the Princess often rode her thereafter.
With Taran's stallion Melynlas, Lluagor had a foal named Llamrei.
Ad blocker interference detected!
Wikia is a free-to-use site that makes money from advertising. We have a modified experience for viewers using ad blockers

Wikia is not accessible if you've made further modifications. Remove the custom ad blocker rule(s) and the page will load as expected.